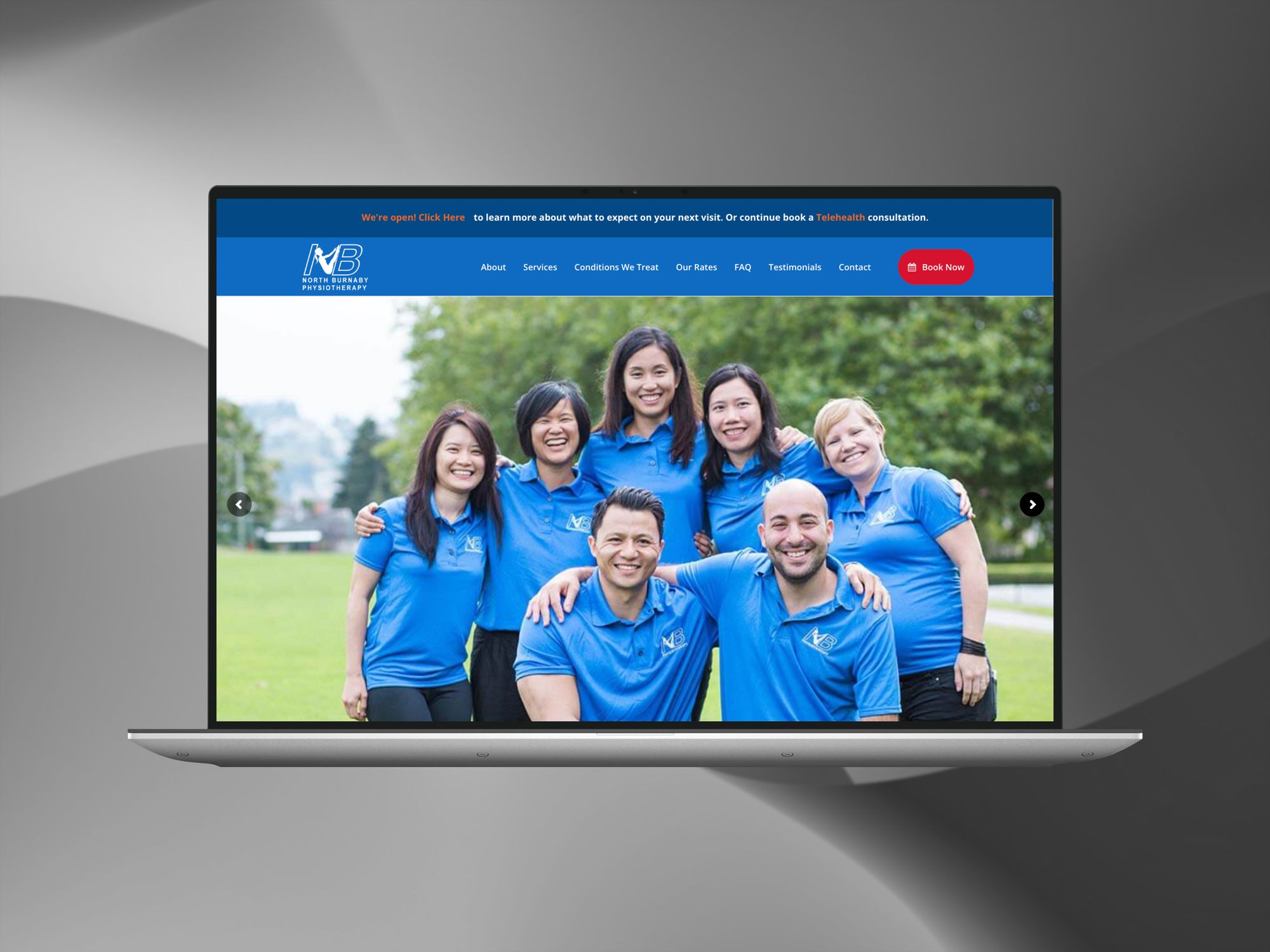 Midstride Technologies is a full-service digital agency that has been helping businesses grow their online presence since 2012. We pride ourselves on delivering maximum value to our clients, regardless of their size or budget. Our goal is to provide customized solutions that help businesses thrive in today's competitive market. One such example is the work we did for North Burnaby Physiotherapy & Wellness, a business run by Florence Yip, a licensed physiotherapist.
When Florence approached us about a website redesign for her business, she had a steady revenue stream, but her online presence was not keeping up with her growth. She needed a website that would showcase her full range of services and help her compete against other businesses in the crowded market space. Having worked with Florence in the past, we were eager to take on the challenge.
Our first step was to find a design theme that would meet 80% of her needs, while customizing the other 20% to fit her brand and personality. We worked closely with Florence to ensure that the new design would be engaging, user-friendly, and optimized for search engines. We understood that SEO was a long-term effort, so we focused on continual improvements that would lead to a steady stream of growing traffic to her website.
To achieve this, we provided consultation on structuring content appropriately, and delivered monthly web analytic reports to understand the traffic, audience, and what type of blog posts were creating traction. We also ran A/B tests where appropriate to explore other avenues to increase business. The end result was a website that was not only aesthetically pleasing but also generated more leads and converted more sales.
North Burnaby Physiotherapy & Wellness is a great example of how we work with businesses of all sizes and customize our services to meet their scale and budget. Instead of offering a fixed pricing model, we focus on investing the budget of our clients in the areas that will help their business thrive. Whether it's branding, marketing, or a new widget, we work with our clients to inform them of their options so they can best decide where to invest their budget.
We believe that by taking the time to truly understand the customer's needs, we can deliver a solution that is tailored to their budget and business objectives. This approach has helped us build long-lasting relationships with our clients and achieve successful project outcomes.
At Midstride, we pride ourselves on our ability to deliver results-driven solutions that help businesses succeed. Whether you're a small business just starting out or a larger enterprise looking to revamp your online presence, we have the skills, experience, and expertise to help you achieve your goals. Contact us today to learn more about our services and how we can help you grow your business.
---
Midstride has done work for me for almost 10 years. They built my first site as well as my current site and has continued to do updates and some SEO. They are great to work with and very knowledgeable. They work with your vision and gives you the best options for what you need keeping within your budget. Highly recommended!

Florence Yip
North Burnaby Physiotherapy & Wellness
Director & Founder